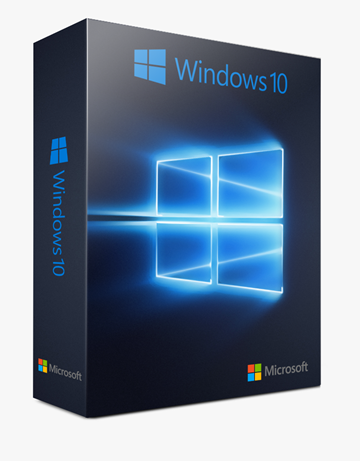 Windows 10 is a series of personal computer operating systems produced by Microsoft as part of its Windows NT family of operating systems. It is the successor to Windows 8.1, and was released to manufacturing on July 15, 2015, and to retail on July 29, 2015. Windows 10 receives new releases on an ongoing basis, which are available at no additional cost to users. Devices in enterprise environments can receive these updates at a slower pace, or use long-term support milestones that only receive critical updates, such as security patches, over their ten-year lifespan of extended support.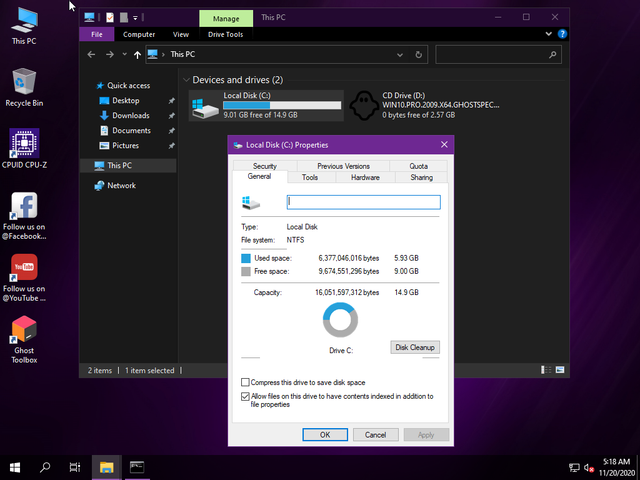 What you need to know before installing this OS modded
SUPERLITE (This version already tweaking and etc) – for Advanced Users* – (suitable for gaming and streaming)
COMPACT (This is untouched version, no tweaking just removing apps/bloatware) – for Standard Users* – (suitable for Office/etc)
General Info
Version: 2009
OS build: 19042.630
Edition: PRO SUPERLITE + COMPACT + DEFENDER W/O
Arch: x64
Lang: en-US
File Size: 5.10 GB
WPE Custom Bootable
MD5: 065e0609fe6eb348ace016ad9a386ace
Normal Bootable (Normal bootable need to install with rufus / yumi / unetbootin / WinNTsetup / or etc)
MD5: be555735f6c4fbdbbf993b0703ebd589
Features
Compact Integrated + LZX (algorithm)
Forced .NET Framework 4.0/4.5/4.6/4.7/4.8
Bloatware FREE!!
Optimized Pagefile/Services/Scheduled/Search Indexer
Privacy Optimizations & Performante mode!
Ghost Toolbox! (Add or Remove Windows Store and Much More!)
Cortana Removes (You can add it back using Ghost Toolbox for WIN10 version 2004/2009)
Support Other Language & Keyboard
Support UWP Games / UWP Apps (ex. Forza/GOW/etc)
Stock Drivers is not removed (and…stops asking me… why my drivers not detect)
Ghost Custom Bootable with more features!
GhostDark Purple V2 Themes!
GHOST DARK (Full dark themes Beta Test)
Updatable (Can update to latest build windows10 version 2009/2004)
Window update can be paused until 2030!
Editions that can be upgraded to
Professional Education
Professional Workstation
Education
Professional CountrySpecific
Professional Single Language
IoT Enterprise
Enterprise
Remove/Disables component
Removes Windows Apps and System Apps / Cortana
Removes Windows Security / Defender / Smartscreen
Disable Remote Desktop / Tablet keyboard / NFC / Clipboard / Focus Assist – (Superlite only)
Removes OneDrive
Disable Action Center / Notifications – (Superlite only)
Telemetry – (Superlite only)
Removes Errors reports – (Superlite only)
Disable UAC (Never notify)
Removes WinSxS backup
Removes Winre (can add on Ghost Toolbox)
Release Names: Windows 10 LITE x64 Version 2009 Build v19042.630-GHOSTSPECTRE
Size: 2.57/2.68 GB
Links: Homepage – NFO – Torrent
Download Standalone Update: NiTROFLARE – RAPiDGATOR – DROPAPK – MiXLOADS
Download Normal: NiTROFLARE / PART1 – PART2 – PART3 /
Download Normal: RAPiDGATOR / PART1 – PART2 – PART3 /
Download Normal: DROPAPK / PART1 – PART2 – PART3 /
Download Normal: MiXLOADS / PART1 – PART2 – PART3 /
Download WPE: NiTROFLARE / PART1 – PART2 – PART3 – PART4 /
Download WPE: RAPiDGATOR / PART1 – PART2 – PART3 – PART4 /
Download WPE: DROPAPK / PART1 – PART2 – PART3 – PART4 /
Download WPE: MiXLOADS / PART1 – PART2 – PART3 – PART4 /
Hits: 8
Category: Applications, Windows
The aim of this website is to provide fresh information about new scene releases and also other interesting software. We've selected a blog-like style using WordPress as the backend, which makes posting much more easier. Every post should include important links and also an option to download the file discussed in the article. Please notice that we don't want to become some warez portal – posting serials, cracks, keygens or direct links to warez is strictly forbidden and it will be deleted without warning. The purpose of D' Dropout Squad is purely informative. Feel free to contact us with any offer, remark or comment.