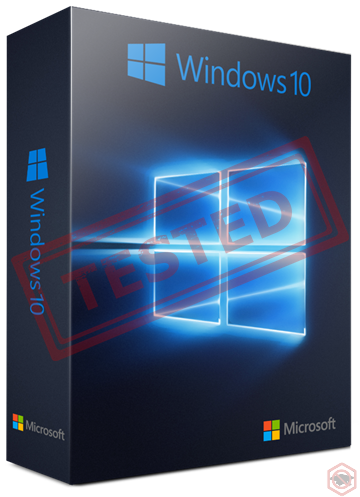 Windows 10 is a series of operating systems produced by the American multinational technology company Microsoft and released as part of its Windows NT family of operating systems. It is the successor to Windows 8.1 (2013), released nearly two years earlier, and was released to manufacturing on July 15, 2015, and broadly released for the general public on July 29, 2015. Windows 10 was made available for download via MSDN and Technet and available as a free upgrade for retail copies of Windows 8 and Windows RT users via the Windows Store. Windows 10 receives new builds on an ongoing basis, which are available at no additional cost to users, in addition to additional test builds of Windows 10 which are available to Windows Insiders. Devices in enterprise environments can receive these updates at a slower pace, or use long-term support milestones that only receive critical updates, such as security patches, over their ten-year lifespan of extended support.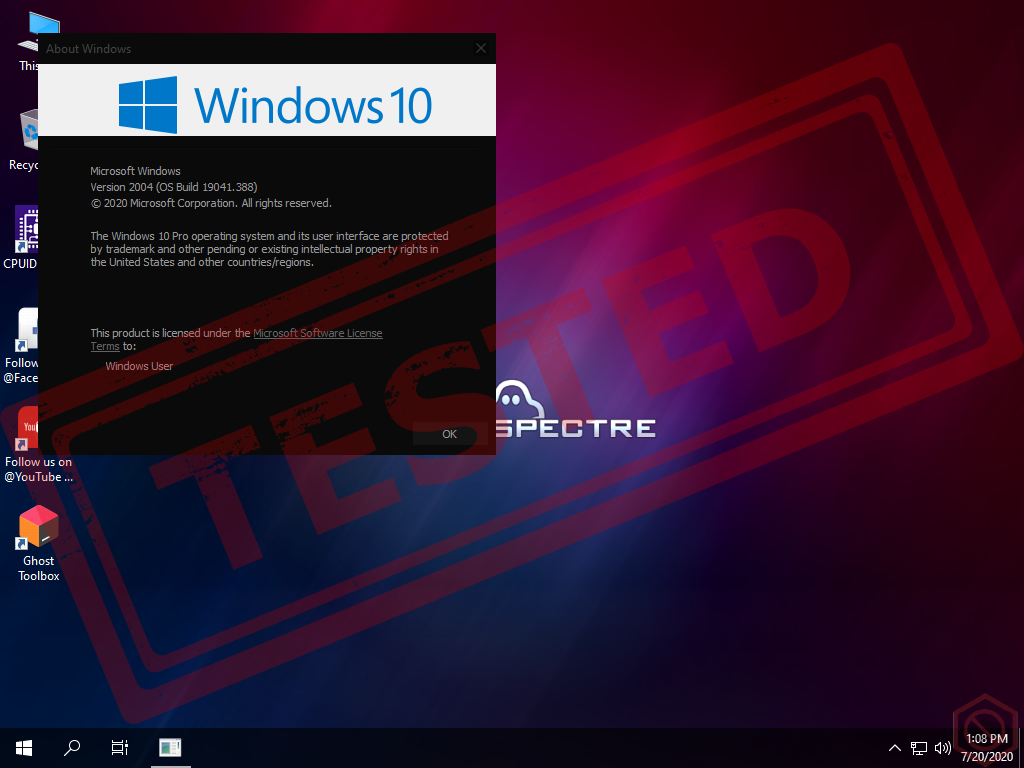 What you need to know before installing this OS modded
SUPERLITE – JUST FOR GAMING OR STREAMING (tweaking and etc) – for

Advanced

Users
COMPACT – OFFICE AND ETC ETC ETC (no tweaking just removing apps) – for

Standard

Users
Wifi or Internet / LAN / Network sharing / Guest access in SMB2 disabled by default in Windows 10 2004.
Stock drivers Windows10* is not removed and stops asking why driver is missing or not detect or etc etc
If your 3rd party AV giving trouble on Ghost Toolbox just allowed it on your AV, some 3rd party AV really hate Powershell/Command script
Wget missing? GIYF
OS build: 19041.388
Edition: PRO SUPERLITE + COMPACT + DEFENDER + WIN FEATURES + ALL WINDOWS EDITION
Arch: x64
Lang: en-US
Format: ISO
MD5: 89ea137c278a50d95b9d0bf8159e7883
CRC32: 5f752dfb
Features:
Compact Integrated + LZX (algorithm)
Forced .NET Framework 4.0/4.5/4.6/4.7/4.8
Bloatware FREE!!
Optimized Pagefile/Services/Scheduled/Search Indexer
Privacy Optimizations & Performante mode!
Ghost Toolbox! (Add or Remove Windows Store and Much More!)
Cortana Removes (now they using cortana as UWP, thts why i get rid this cortanas :P, if you need cortana give me some time i'll add on ghost toolbox soon 😛)
Support any Other Language & Keyboard
Support UWP Games / UWP Apps (ex. Forza/GOW/etc etc)
Windows 10 Pro – (Activated with Ghost Toolbox or Your own product key!)
Stock Drivers is not removed
Update Windows bootable with more features (normal bootable)
Can Installing Windows through ISO > Setup
Dark theme by default
GHOST DARK (Full dark themes Beta Test)
Updatable (can update to latest build windows 10 version 2004)
Editions that can be upgraded to:
Professional Education
Professional Workstation
Education
Professional CountrySpecific
Professional Single Language
IoT Enterprise
Enterprise
Remove/Disables component:
Removes Windows Apps and System Apps
Removes Windows Security / Defender / Smartscreen
Disable Remote Desktop / Tablet keyboard / NFC / Clipboard / Focus Assist – (Superlite only)
Removes OneDrive
Disable Action Center / Notifications – (Superlite only)
Telemetry – (Superlite only)
Removes Errors reports – (Superlite only)
Disable UAC (Never notify)
Removes WinSxS backup
Removes Winre (can add on Ghost Toolbox)
How to Install this OS – READ BEFORE INSTALLING THIS WINDOWS MOD!
Before installing this OS Always move or backup your old files!
Make bootable ISO image with rufus in flash drive/etc. Also can setup windows through ISO
Setup windows using Pendrive/DVD/etc through bios boot device priority.
Restart is required after installation is complete.
For Tablet Users or Enable Touchpad or Handwriting Panel (Touch Keyboard and Handwriting)
How to use Tablet mode on Superlite or Compact (Version 2004) > Click Ghost Toolbox on Desktop > Option > [20] > [03] (Ghost Toolbox v1.8.6 or Higher)
(required internet for download dependencies, size arround 1.9mb)
Language & Keyboard
Windows tips and Tricks
For laptop users you can enable it back "sleep mode/standby mode/hibernations".
For HDD users if you want better boot up times you can enable it back hibernation/fastboot.
If you wanna using a Printers Enable "Print Spooler" in services (set Auto) or on Ghost toolbox [01] – [05].
How to get Windows Store?. on Ghost toolbox i guess?
Paging file now is set to default. no more crashed issues 🙂 if still crashed just set virtual memory only one drives
NOTE: Files you've download in Ghost Toolbox are automatically saved in the 'C:\Ghost toolbox\wget' folder
Release Name: Windows.10.Lite.x64.Version.2004.Build.v19041.388-GHOSTSpectre
Size: 2.5 GB
Links: Homepage – NFO – Torrent


NiTROFLARERAPiDGATORDROPAPKUSERSCLOUD
NOTES
Use latest WinRAR (Official/Android) or 7zip version to avoid errors.
Applications are mostly not tested. Proceed with caution.
Dead links? Comment below.
Reuploads are optional.
Hits: 21
Category: Applications, Windows
The aim of this website is to provide fresh information about new scene releases and also other interesting software. We've selected a blog-like style using WordPress as the backend, which makes posting much more easier. Every post should include important links and also an option to download the file discussed in the article. Please notice that we don't want to become some warez portal – posting serials, cracks, keygens or direct links to warez is strictly forbidden and it will be deleted without warning. The purpose of D' Dropout Squad is purely informative. Feel free to contact us with any offer, remark or comment.