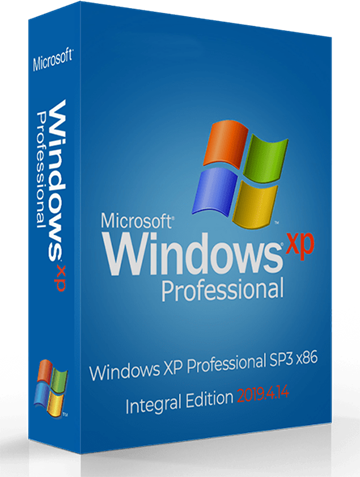 Includes ALL the latest Windows XP and POSReady 2009 Updates/Hotfixes until 22.5(May).2019 and will also automatically receive new Windows XP (POSReady 2009) Updates until at least April 2019 and no Windows XP Activation or Crack or CD-Key is required.
Also included are over 140 MB of additional LAN, SATA/AHCI, NVMe and USB3 drivers, including with some Themes, Runtimes, Patches, Fixes, Tweaks and some optional Programs and Pre-Configured Settings.
A Help file is also included in the ISO/Disc folder ".\OEM\WinXPPx86IE" with lots of useful information, such as on how to install Windows XP with an USB Flash Drive and on how to integrate your own SATA/AHCI drivers and much more.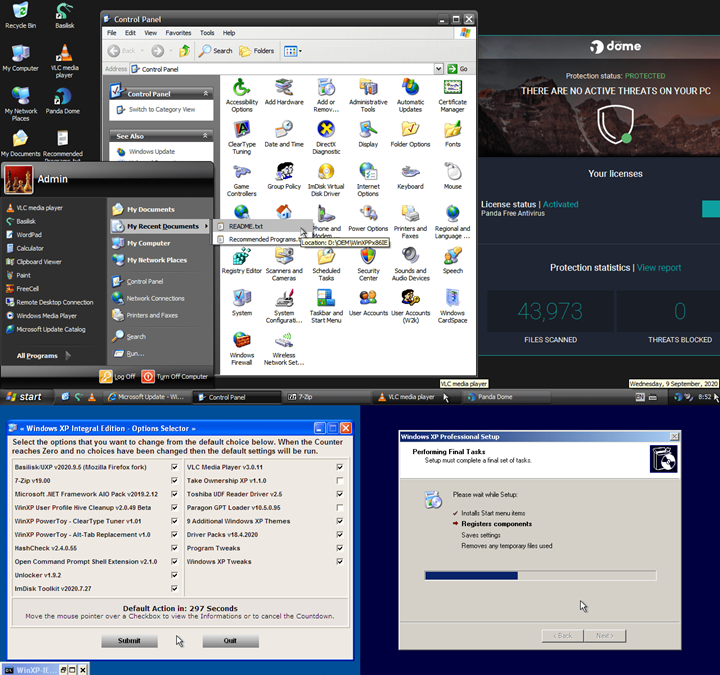 What's New
(#) 2020.9.9 Changes:
* Added a few cosmetic improvements.
* Added KB4557900 Time Zone registry entries.
* Added Compatible Windows Server 2003 SP2 files "disk.sys", "partmgr.sys" (Adds GPT support).
* Added Microsoft USB 3.0 xHCI driver v2.1 (Backported Windows 8 driver).
* Added Microsoft NVMe driver v2.0 (Backported Windows 7 driver).
* Added Samsung NVMe driver v1.2 (Backported Windows 7 driver).
* Replaced "Universal SATA/AHCI driver v2019.6.10″ with "Microsoft SATA/AHCI driver v2.0 (Backported Windows 8 driver)".
* Replaced "PotPlayer v1.7.21146″ with "VLC Media Player v3.0.11″ (Better performance on Windows XP).
* Replaced "IObit Unlocker v1.1.2″ with "Unlocker v1.9.2″.
* Updated Windows XP Root Certificates Update (KB931125) from "April 2020 v41.0.2195.2004″ to "September 2020 v41.0.2195.2009″.
* Updated Windows XP Revoked Roots Certificates (SA3123040) Update from "August 2019 v8.0.2195.1908″ to "September 2020 v8.0.2195.2009″.
* Updated Microsoft Visual C++ 2015-2019 Redistributable from "v14.26.28720.3″ to "v14.28.29213.0″.
* Updated Optional Patch Integrator script from "v2.1.3″ to "v2.3.4″.
* Updated Basilisk/UXP from "v2020.5.2″ to "v2020.9.4″.
* Updated ImDisk Toolkit from "v2020.4.12″ to "v2020.7.27″.
* Updated Paragon GPT Loader from "v8.0.1.2″ to "v10.5.0.95″.
* Removed Open Fabrics Alliance NVMe drivers.
System requirements:
• Processor: at least 300 MHz
• Memory: 256 Mb
• VGA: (800 x 600)
• HDD: 6 GB
Release Names: Windows XP Professional SP3 x86 Integral Edition September 2020-P2P
Size: 717 MB
Links: Homepage – NFO – Torrent
Download: NiTROFLARE – RAPiDGATOR – DROPAPK – MiXLOADS
Hits: 3
Category: Applications, Windows
The aim of this website is to provide fresh information about new scene releases and also other interesting software. We've selected a blog-like style using WordPress as the backend, which makes posting much more easier. Every post should include important links and also an option to download the file discussed in the article. Please notice that we don't want to become some warez portal – posting serials, cracks, keygens or direct links to warez is strictly forbidden and it will be deleted without warning. The purpose of D' Dropout Squad is purely informative. Feel free to contact us with any offer, remark or comment.