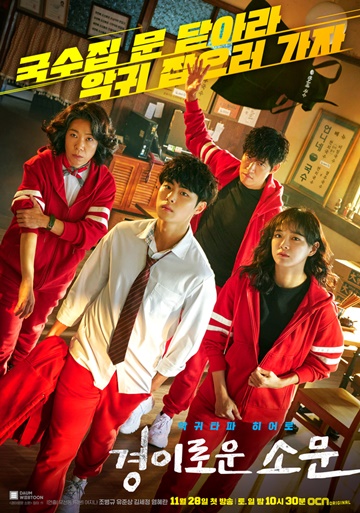 A group of people are called "Counter." Their purpose is to hunt down evil spirits and they each have their own special abilities. The group disguises themselves as employees at noodle restaurant.
So Mun (Joe Byeong-Gyu) is a high school student and he is the youngest member of "Counter." His special ability is his physical strength. As a child, he was involved in a suspicious car accident. His parents died in the accident and he was left with a limp in his left leg.
Ga Mo-Tak (Yu Jun-Sang) is a former police officer. He had an accident 7 years ago, which caused him to lose his memory. He is a righteous person.
Do Ha-Na (Kim Se-Jeong) can sense evil spirits from hundreds of kilometers away. When she touches someone, she can read their memories.
Chu Mae-Ok (Yum Hye-Ran) is the chef of the noodle restaurant. She is the anchor of "Counter."
Choi Jang-Mool (Ahn Suk-Hwan) is the first "Counter" of Korea. He is in charge of managing expenses for the group.
The.Uncanny.Counter.S01E06.KOREAN.WEBRip.x264-ION10
MP4 | AAC | 647MB
NFO – TORRENT – NiTROFLARE – RAPiDGATOR – DROPAPK – MiXLOADS – DOODSTREAM – STREAMTAPE – UPSTREAM
Hits: 0
Category: TV Shows
The aim of this website is to provide fresh information about new scene releases and also other interesting software. We've selected a blog-like style using WordPress as the backend, which makes posting much more easier. Every post should include important links and also an option to download the file discussed in the article. Please notice that we don't want to become some warez portal – posting serials, cracks, keygens or direct links to warez is strictly forbidden and it will be deleted without warning. The purpose of D' Dropout Squad is purely informative. Feel free to contact us with any offer, remark or comment.